Bright colors are the correct way to open autumn and winter
At the Copenhagen Fashion Week in Spring/Summer 2022, which just ended, a series of "beautiful landscapes" appeared inside and outside the show: not only the major brands on the show showed their love for bright colors in spring and summer, but also the fashion outside the show. People also use vibrant and visually bright colors in the street shooting style to provide color reference for the autumn and winter clothes this season.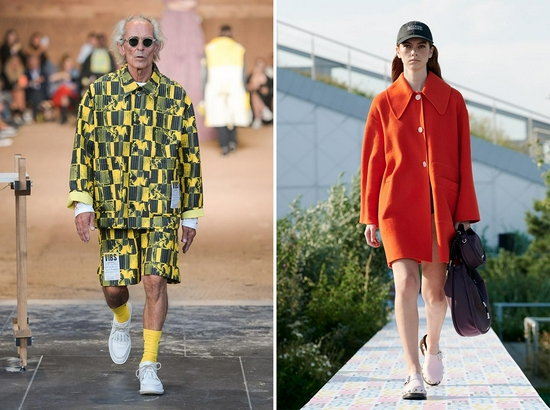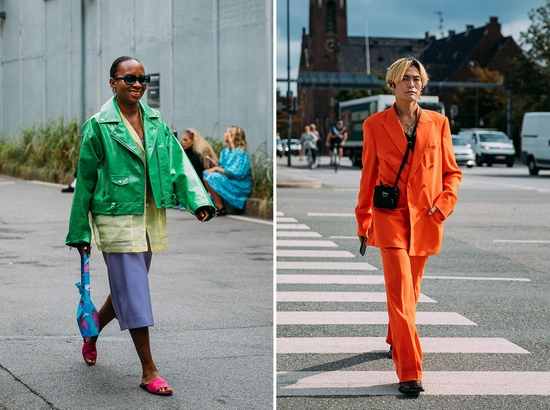 Every autumn and winter, dark colors dominate, but since the beginning of this year, all major 2021 autumn and winter fashion shows can find that bright colors are stealing the limelight. Many fashion experts believe that this is the trend of "dopamine dressing" triggered by the epidemic last year at home.


"Dopamine dressing" describes a kind of fashion that can bring mood-enhancing effects, that is, by wearing certain colors of clothing to enhance the mood of the wearer. British fashion editor Zoe Anastasiou said, "The benefits of'dopamine dressing' have been circulating among the fashion crowd for some time."

She pointed out that according to Karen Haller, a global authoritative expert in the field of applied color psychology, "color is a great way to cheer us up instantly and elevate our emotions. When we wear colors that we like and feel good about ourselves, Our self-confidence will be improved." As far as the scientific principle behind it is concerned, Haller's explanation is that wearing bright colors "will produce physiological changes in our body", and from a psychological point of view, "it provides an emotional experience".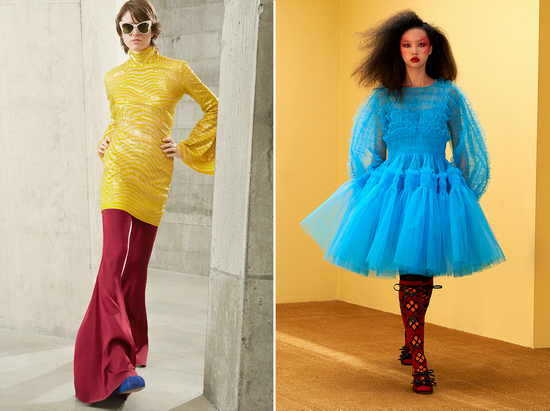 Shakaila Forbes-Bell, editor-in-chief of Fashion is Psychology, a fashion psychology website, stated that the epidemic "caused a change in people's perceptions of clothes. The feelings I bring psychologically and physically'".

As a fashion psychologist, Forbes-Bell also pointed out that people do use clothes as a tool to help them reduce certain negative emotions, thereby improving their happiness, "When you wear a piece of clothing that makes you happy , You will feel excited. This pleasure is related to the chemical substance dopamine released from the prefrontal cortex."

Net-a-Porter senior marketing editor Libby Page told the well-known fashion website WhoWhatWear that fashion designers have long noticed that customers want to feel color and optimism in fashion. This is why this year when the epidemic blockade is gradually lifted, different brands will be 2021 "Explosive bright colors" are constantly being found in autumn and winter fashion shows. Sophie Adams, a fashion buyer at Harvey Nichols, a high-end British department store, believes that "color supports this season's trend" and "positive color palette" is a popular theme.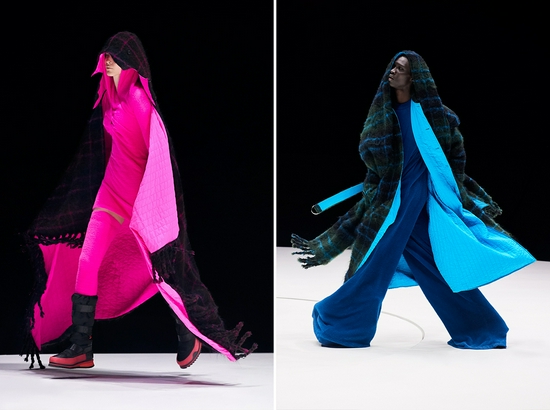 Versace designer Donatella Versace said, "Color is life, joy, and fun." She launched three "dopamine dress" styles in the Versace 2021 autumn and winter fashion show: fuchsia, lemon yellow, and coral type A. mini skirt. "We are looking at the future with a new positive attitude. When we slowly recover our lives (from the epidemic), the whole world should celebrate."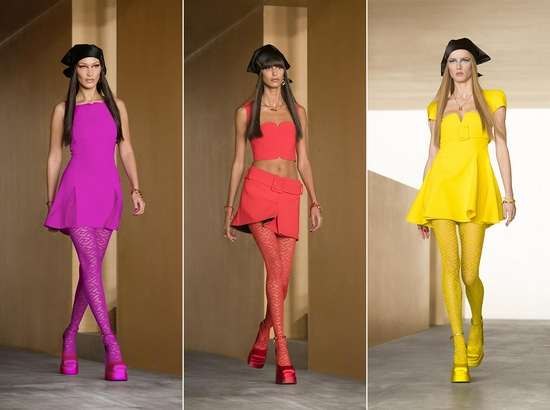 Aoife Byrne, a retail analyst at Edited, a retail market intelligence company, said, "Blue, green and pink are the brightest colors currently stocked, and we can see that the investment growth rate is rising." In a recent report by Condé Nast's industry media website Vogue Business, Damien Paul, the director of men's clothing at MatchesFashion, a British luxury e-commerce company, mentioned, "It is clear that we have noticed (customers) increasing demand for color." He also pointed out that blue, green and pink sales have increased compared to last year.


Trend forecasting agency WGSN pointed out in the review of the 2021 autumn and winter women's wear series released in March this year, "Although (the fashion industry) has renewed attention to neutral colors, autumn and winter bright colors will inject much-needed vitality and optimism", and in future wear, People will also focus on creating exciting mixes between core colors (such as black, white, gray, etc.) and vibrant bright colors.

In other words, bright colors are no longer just exclusive colors for spring and summer. Refer to the 2021 autumn and winter fashion color trends released by the Pantone Color Institute under the international authoritative color agency Pantone. From this autumn and winter, make good use of colors to mobilize cheerfulness. Emotions, using "dopamine dressing" to bring out vitality, a change from the low-key and dull style of wearing in the past.


Bright yellow Illuminating is defined by Pantone as one of the representative colors of 2021. Bright yellow is also to show vitality, happiness and optimism in the post-epidemic period.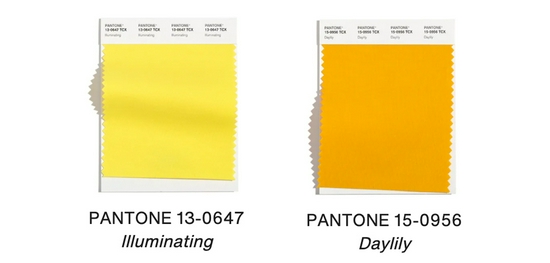 Loewe added a lot of yellow to its 2021 autumn and winter series, including a variety of yellow leather waist seals and yellow handbags. For this season's design, its designer Jonathan Anderson once said, "Maybe this is the color therapy I need."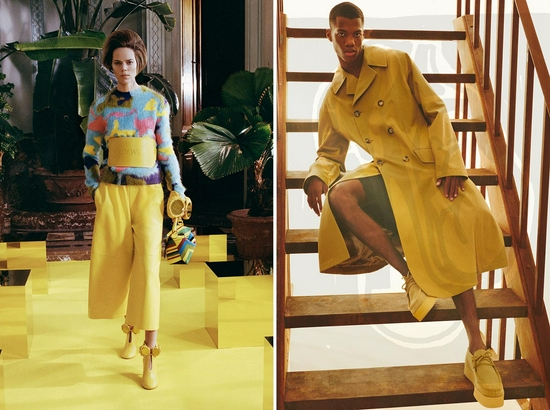 If you dare not challenge the bright yellow that is too bright, other yellow tones can also play a brightening effect. This playful yellow tone can be used on almost any fashion item, and it can make people shine in any mix and match.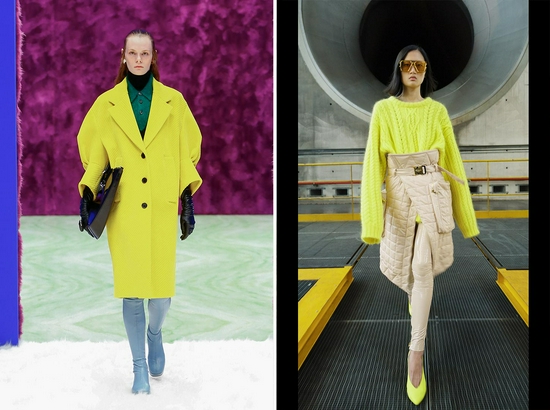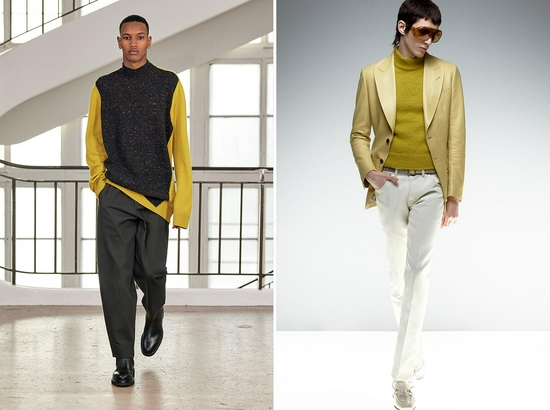 Blue series
This season's autumn and winter color trend can be said to be a tribute to various blue tones.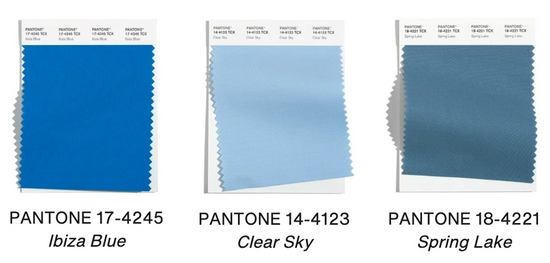 The "Ibiza Blue" inspired by the island of Ibiza is rich and bright. Louis Vuitton used this color in one of its long oversized leather vest jackets, which is full of avant-garde feeling; Prada also showed this Color favorites can be seen from small gloves to oversized handbags and cocoon coats.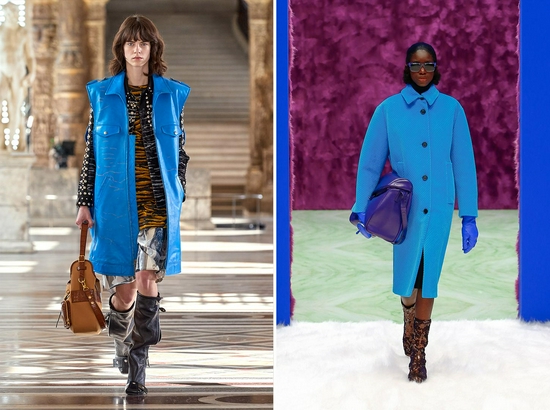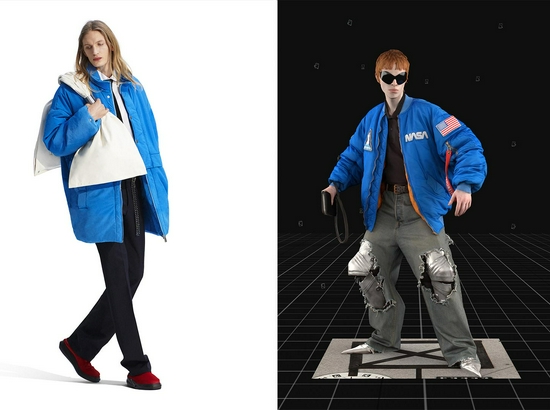 Relatively fresh and soft is "clear sky blue". This calm and soothing tone can be used to create minimalism with suits, or use splicing and mixing to create a touch of refreshing in gloomy winter days.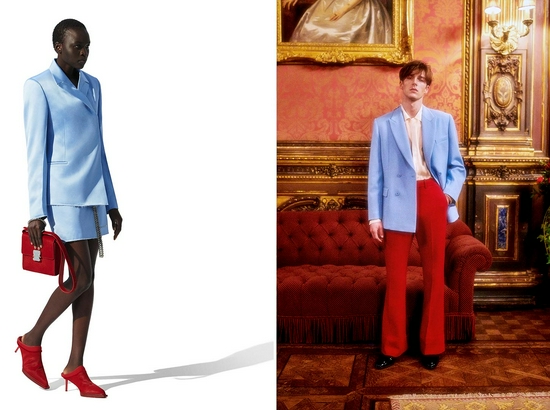 In addition, the more mid-tone blue, such as the quiet "Spring Lake Blue", is very suitable for fashionable people who like low-key and enjoy color therapy. It is very seductive whether it is used in monochrome or mixed with other colors.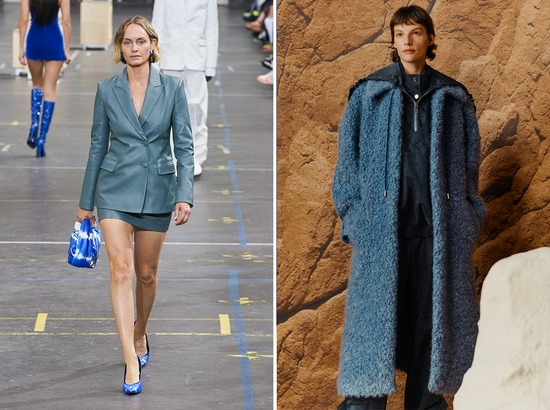 Red series
When it comes to bright colors, red tones are absolutely indispensable. Color psychologist Karen Haller analyzed that wearing red "like drinking a cup of espresso" can instantly boost energy.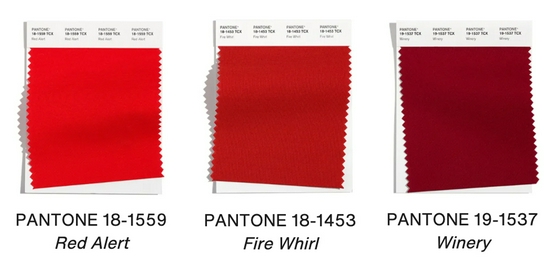 From the visually influential "Alert Red", the vibrant "Fire Whirlwind Red", to the mellow and retro "Vintage Red" like red wine, although the red tones are different, the appeal to people is the same. Strong.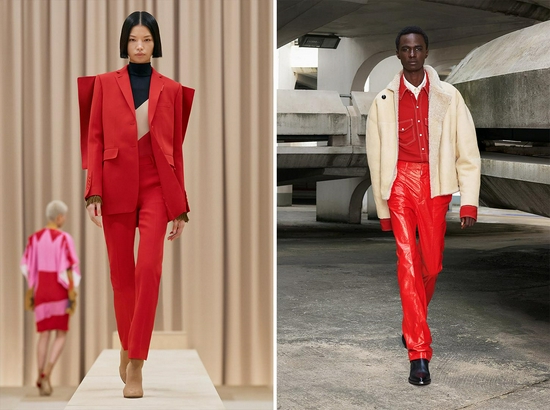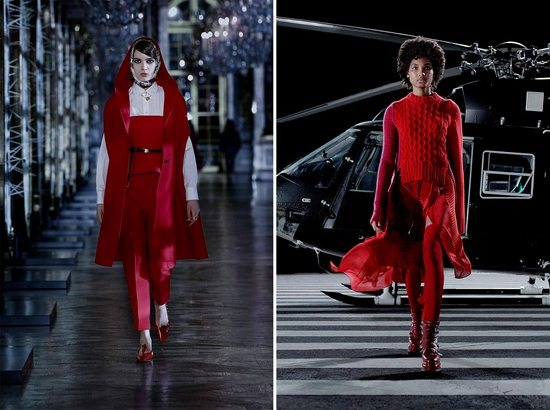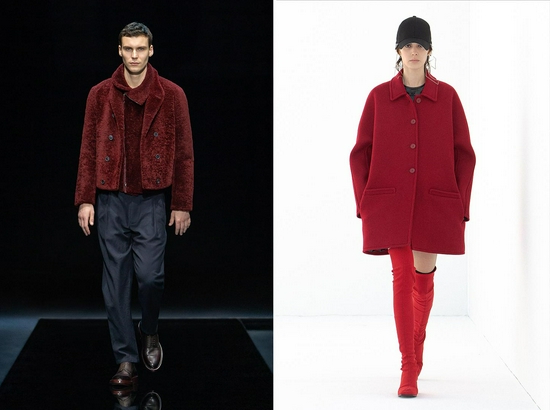 Green series
Of all the colors in the spectrum, green is the closest to nature, which also makes wearing green clothes feel close to nature.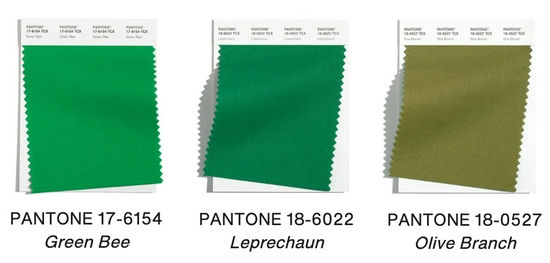 In this autumn and winter, Prada chose two particularly interesting green tones. "Elf Green" is a wonderful green hue, which symbolizes a green elf in Irish folklore; "Green Bee" is more grass-like green, and it is visually slightly fluorescent and psychedelic. Color effect.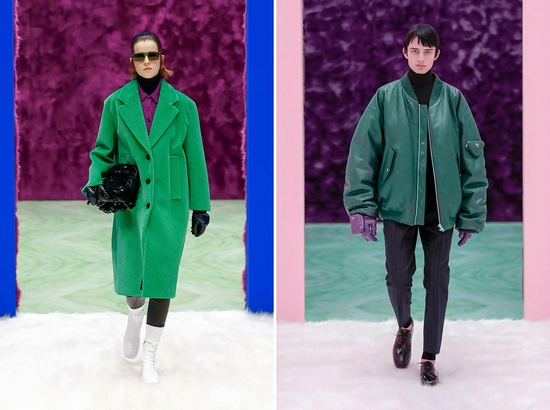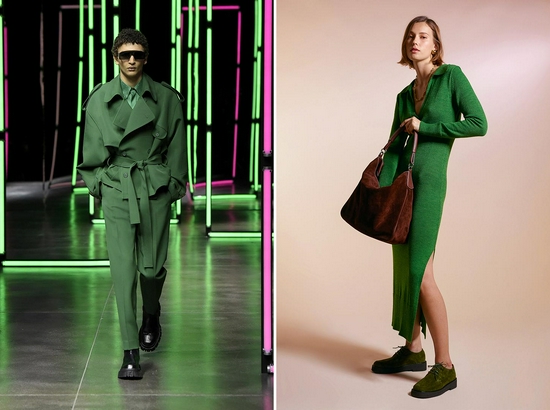 In addition, as a classic neutral color regardless of season, "olive branch green" can also bring unexpected brightening effects in the mix and match.